Major-General Chaim Herzog is known for his bold defense of the truth, that Zionism, the belief that the Jewish people have the right of self-determination in their historic homeland, is not racism. Herzog's defense of this self-evident truth came in the form of his speech against United Nations Resolution 3379, a speech which was broadcasted throughout the globe. Born in the United Kingdom, Chaim Herzog was Israel's 6th President, Israel's Ambassador to the United Nations, a Member of Israel's Parliament – the Knesset, a Major-General in the Israel Defense Forces (IDF) until 1962, and a true defender of Zionism!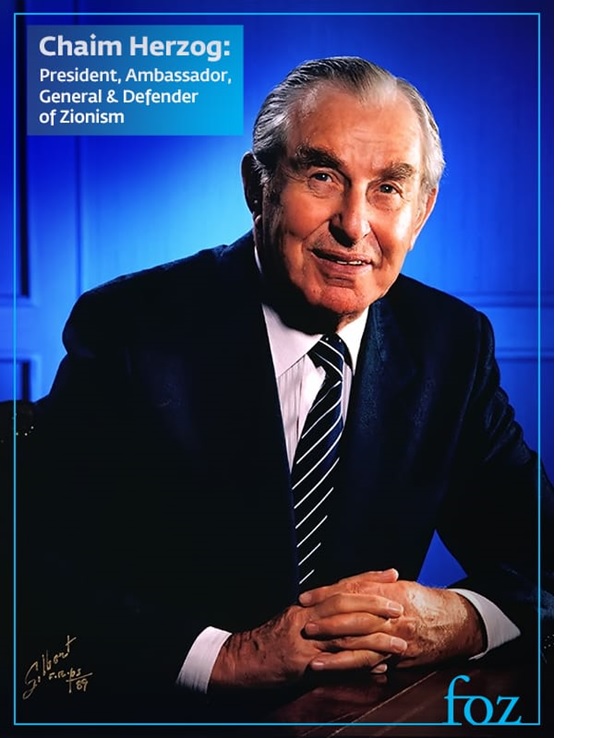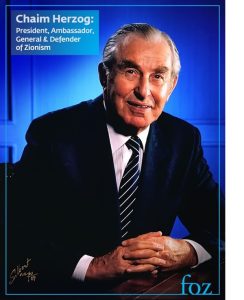 The son of Rabbi Yitzhak HaLevi Herzog, the Chief Rabbi of Ireland (1919-1937), Chaim Herzog moved with his family to British Mandatory Palestine in 1935. A young Chaim served in the Haganah, a Jewish defense group, against the Arab Revolt of 1936-1939. He later earned his law degree from University College London, going on to serve the British Army in World War II.
It was in the British Army that Herzog earned his nickname "Vivian" because his fellow soldiers could not pronounce "Chaim." In 1943, he was inducted in to the Intelligence Corps. The young soldier participated in the liberation of several Nazi concentration camps, as well as the identification of Heinrich Himmler, a senior Nazi commander and mastermind of the concentration camps. Herzog would leave the British army after World War II, with the rank of Major, in 1947.
After discharging from the British Army, Herzog went to war once more, this time to defend his homeland. He fought in the 1948 Arab-Israeli War, serving as an officer in the Latrun region. Since his WWII intelligence experience was seen as an asset to the IDF's operations, he became head of the IDF's Military Intelligence. In 1962, he retired from the IDF with the rank of Major-General.
After leaving the army, Herzog opened a private law practice. He returned to public life in 1967, when the Six-Day War broke out, as a military commentator for Kol Israel radio news. Following the capture of the West Bank, he was appointed Military Governor of East Jerusalem, and Judea and Samaria.
In 1975, Herzog was appointed Israel's Ambassador to the United Nations, in which capacity he served until 1978. During his term, the UN adopted the "Zionism is Racism" resolution (General Assembly Resolution 3379), which Herzog condemned and symbolically tore up. A tactic his father had done to one of the British white papers, which restricted Jewish immigration and community-building in the British Mandate in Palestine.
Herzog had made his case by declaring: "For us, the Jewish people, this resolution based on hatred, falsehood and arrogance, is devoid of any moral or legal value. For us, the Jewish people, this is no more than a piece of paper and we shall treat it as such."
Over a year after elected to the Knesset as a member of the Israeli Labor Party, in November of 1982, he suffered a major heart attack, from which he managed to recover. Just six months later, in May of 1983, he became Israel's President. As President, Herzog made a number of visits abroad, being the first Israeli president to make an official visit to Germany, as well as visiting several far-east countries, Australia, and New Zealand. Being re-elected President, for a second 5-year term in 1988, he ultimately ended up serving as Israel's President for ten years.
On April 17, 1997, the world lost a great president, diplomat, general and defender of Zionism. Mount Herzl in Jerusalem, named after Theodor Herzl, the founder of modern Zionism, commemorates Israel's fallen soldiers, political leaders and many other heroes of the State of Israel and the Jewish people. That is where Chaim Hertzog final resting place is. The great president is survived today by his three children, including Isaac "Bougie" Herzog, Chairman of the Jewish Agency and former head of the Israeli Labor Party, Minister and Head of Israel's opposition.
*For more stories like this we invite you to visit the friends of zion museum in jerusalem