The Dreyfus Affair was a political scandal that divided the Third French Republic from 1894 until its resolution in 1906. The affair is often seen as a symbol of injustice and anti-semitism, Major roles in the affair were played by the press and public opinion in the lasting social conflict.
It all began when, at the end of 1894, a French army captain named Alfred Dreyfus, a Jew of Alsatian origin, was accused of handing secret documents to the imperial German military. After a closed trial, he was found guilty of treason and sentenced to prison for life in French Guiana, where he spent nearly five years.
At that time, opinion of the French political class was unanimously against Dreyfus. However, the journalist Bernard Lazare was convinced of Dreyfus' innocence and set out to disprove the case against him. Meanwhile Colonel Georges Picquart, head of counter-espionage, found evidence in March 1896 indicating that the real traitor was Major Ferdinand Walsin Esterházy.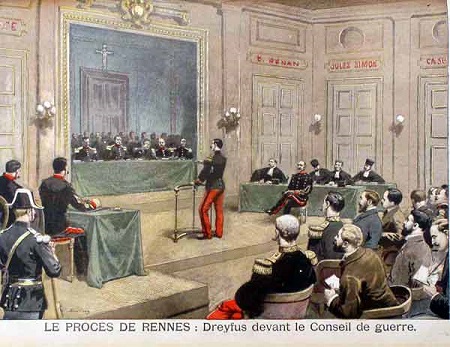 The General Staff, however, refused to reconsider its judgment and acquitted Esterházy after a trial lasting only two days. The army then accused Dreyfus of additional crimes, based on false. information. Word of the military court's framing of Dreyfus and of an attempted cover-up began to spread, leading to the open letter entitled "J'accuse" by famed writer Émile Zola that was published in a Paris newspaper in January 1898 and achieved wide attention. Activists put pressure on the government to reopen the case. The issue continued to be hotly debated until the end of the century. Anti-semitic riots erupted in more than twenty French cities.
Despite the intrigues of the army to quash the case, the first judgment against Dreyfus was ultimately annulled by the Supreme Court after a thorough investigation, and a new court-martial was held at Rennes in 1899. Despite increasingly robust evidence to the contrary, Dreyfus was convicted again and sentenced to ten years of hard labor, though the sentence was commuted due to extenuating circumstances. Finally, a presidential pardon was granted by President Émile Loubet, but it was only in 1906 that Dreyfus' innocence was officially recognized. He was returned to military service and remained an officer in the French Army for the entire period of World War I, ending his service with the rank of lieutenant-colonel. He died in 1935.
The Dreyfus Affair had a profound influence on the budding Zionist movement and was cited by the founding father of modern political Zionism, Theodor Herzl, in his arguments for the need of the Jews to have a sovereign state of their own, free of foreign anti-Semitic rule.