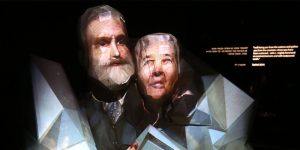 The deeply religious ten Boom family of Holland believed that all human life is precious, leaving them no other course but to rescue Jews and resistance fighters from the clutches of the Nazis during World War II. In May 1940, the Nazis invaded the Netherlands. It was not long after that that the Nazis and their collaborators began rounding up Jews and sending them to death camps.
The ten Boom family members were devoted followers of the Dutch Reformed Church, who had been holding weekly prayer meetings in their Haarlem home for a century and were stout believers in the destiny of the Jewish people and their right to their Biblical homeland.
The family soon became involved in rescue work during the war. Casper ten Boom and his children opened their home to refugees — both Jews and others who were members of the resistance movement and were being sought by the Gestapo and its Dutch counterpart. They hid the asylum seekers in a narrow room behind a false wall that was built secretly in their home. Food was smuggled into the home by the family.
On February 28, 1944, a Dutch informant told the Nazis about the ten Booms' work; The Nazis arrested the entire ten Boom family. They were sent to prison; where Casper died 10 days later. Other family members were released, but daughters Corrie and her older sister Betsie were sent to the Ravensbruck concentration camp in Germany. After her health continued to deteriorate, Betsie died there on Dec. 16, 1944.
After the war, Corrie ten Boom traveled the world as a public speaker, appearing in more than 60 countries, preaching reconciliation. She told the story of her family members and their work in her best-selling book, "The Hiding Place" (1971), which was made into a film. In her autobiography, Corrie repeatedly cited religious motivations for hiding Jews, particularly her family's strong belief in a basic tenet of their religion: the equality of all human beings before God.
The story of Corrie ten Boom, her family's unshakable faith, and their rescue work is told in the Friends of Zion Museum in downtown Jerusalem.
Yad Vashem, the Israeli Martyrs' and Heroes' Remembrance Authority, honored Corrie by naming her in 1967 as one of the Righteous Among the Nations. She was also knighted by the Queen of the Netherlands in recognition of her work during the war.
Corrie died on her 91st birthday, April 15, 1983, in California. The watch shop and home of the ten Boom family in Haarlem has become a museum in testimony to the faith and courageous action of the family during the darkest days of World War II and the Holocaust.